Like many other events, the UK PropTech Awards went virtual this year. Nearly 500 attendees tuned in, and the UKPA team put on one of the best virtual events we've seen this year.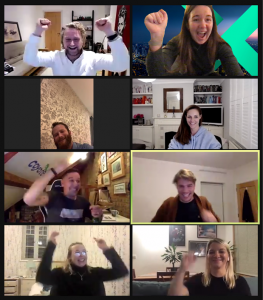 We were incredibly proud to win two awards on the evening; 'Most Collaborative Business – PropTech' and 'Most Adaptive Business – PropTech'.
Following that, Oli Farago (Coyote CEO) was announced as the winner of this year's 'Special Achievement Award' – with mention of his continued passion to unite PropTech and real estate, as well as dependable leadership during a tough year. Two qualities that we can definitely vouch for!
Networking from afar
As a category sponsor, we experienced our very first virtual awards table and it was a lot more fun than we expected – especially when we realised that anyone could drop into our room! We had faces old and new popping in to say hi, and it was great to catch up with friends who we hadn't seen on the events circuit for obvious reasons.
We kept things fun with a few quick-fire rounds of the "Yes/No" game. Granted, it wasn't a patch on Take Your Pick (shout to Des O'Connor), but our friends seemed to enjoy it!
Some of the team left the comfort of our virtual table, venturing into the uncharted territory of randomised networking. While there are undoubtedly several (questionable) websites that pair two guests with each other on camera, this was the first time we've seen it work effectively in a business setting.
Creative Execution
As for the ceremony itself, the UKPA proved incredibly creative with the segments which made up the awards. The recorded segments featured funny commentary, filmed on location at the O2 Arena, and really added to the enjoyment of the evening.
The category sponsors contributed their own clips to introduce each award, and we were happy to see that we weren't the only ones who had gone off-piste from filming instructions! For our recording, we enlisted the help of six people from the Coyote team – passing the nomination sheet across multiple locations: https://www.youtube.com/embed/I2l6H5fUn1w?start=1099&end=1159;rel=0&showinfo=0
Looking Ahead
Seeing the high standard of entries and the calibre of shortlisted companies this year, the importance of the UKPA's role in furthering our industry is obvious. By promoting engagement between PropTech's and PropCo's, they embody true digital transformation and collaboration.
Whilst we're hoping we will be able to meet our industry friends and colleagues in person sometime soon, this was one of the best virtual events that we've been to.
A big thank you to Sammy, Frankie and Matt – we're looking forward to next year's event already.