On the 7th of January 2021, the buyers & sellers of real estate technology from all around the world came together on one digital platform to share knowledge and network at what has been described as "the burning man for real estate."
On the day, over 400 sessions were streamed and can still be watched on-demand. RE:Connect is a streaming platform that not only digitalises live events, but completely restructures traditional event-based marketing channels for greater transparency, creating a highly efficient experience for all, and allowing speakers creative freedom.
Each attendee has complete freedom to tailor their own experience and learn from the experts of the topics that suit them rather than a line up which was curated by those who are not market participants. Not one person gets a uniform experience. You are no longer a passive listener but an active participant in direct communication with the specialists. Additionally, RE:Connect helps creators and attendees follow up with connections by deploying detailed data analytics. With greater creative freedom and a new approach to events ensured that the 7th of January would witness a whole range of discussions that have not been heard before at traditional events. With this in mind, let's take a closer look at some of the sessions that you wouldn't typically see at a conference…
---
Panic, Plateau, Adoption & Acceleration: CRE's path to digital adoption in response to the pandemic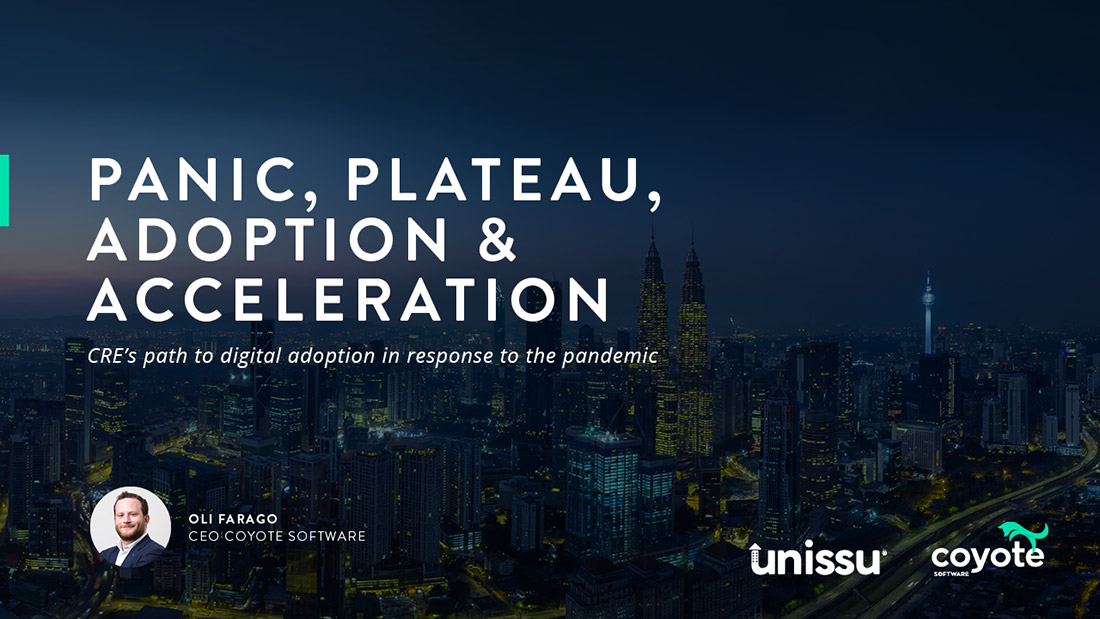 Oli Farago, CEO of Coyote Software, live-streamed his thought-provoking session based on the article he wrote in 2020: "What can 1918 teach us about post-pandemic tech adoption?" for the Estates Gazette. He stresses the importance of using history as a tool to navigate innovation within real estate and begins with the George Santayana quote: "Those who do not remember the past are condemned to repeat it." In this case, we need to actively remember the human behaviour following the outbreak of the Spanish Flu of 1918, and once equipped with this knowledge we can navigate technological innovation to assist in both coping with and moving past the pandemic.
Oli identifies the parallels we can form from the Spanish Flu of 1918 and COVID-19 including the failures of the media and the regulations of quarantine resulting in closed businesses and empty streets. There were drastic behavioural changes for the desperate need of public safety such as the switch from spitting tobacco to smoking tobacco which Oli compares the current switch we are seeing from meetings and conferences in-person to Zoom, Google Meet, and RE:Connect. Most significantly, he reveals how individuals used the 1918 pandemic as a springboard for innovation based on future needs as opposed to the accepted sense of normality. The major example is the transformation of the telephone from requiring operators in close proximity to each other to the creation of the Eccles-Jordan Trigger Circuit, better known today as the flip-flop circuit. The flip-flop remembers electronic information and so allowed an increase of telephone communication to take place without putting telephone operators' lives at risk. This single innovation is recognised to be a key component of the computer.
The past pandemic can be categorised into stages of panic, plateau, adoption, and eventually acceleration. Oli highlights the importance of disregarding what was once normal on the basis of accelerating technological innovation. Instead, we must focus on being prepared for what could happen next, bringing change rather than restoration.
---
You can read the full article on Unissu.