We're very happy to see Oli (Farago, Coyote CEO) has made it into OnOffice Magazine's annual Power List.
The Power List is a roundup of "movers and shakers" from the commercial world – recognising the achievements and successes of individuals who have had an impact within the commercial workplace.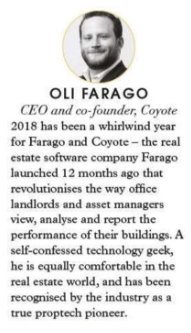 Described as "a true PropTech pioneer", Oli joins some impressive names from the world of commercial property – including Will Colthorpe at Argent, Robert Wolstenholme at Trilogy Real Estate, and Joff Sharpe at British Land.
From the world of design and architecture, this year's list featured visionaries like Norman Foster; responsible for Bloomberg's new headquarters, plus Charlie Rosier and Fabienne O'Neill; co-founders of Cuckooz Nest; a co-working space which puts childcare and family at the heart of its business.
With new client announcements imminent, along with product updates in the pipeline which involve some very exciting integrations, and an ever-increasing team, we're looking forward to a year that will exceed the achievements we enjoyed in 2018!