Display File Names for Models | Market
Now when uploading Excel models to your assets in Coyote Market, you'll see the filenames for each of the models you've previously uploaded.
This means you can quickly establish whether the key stats for the asset you're viewing are related to best case, worst case, or a specific forecast somewhere in between.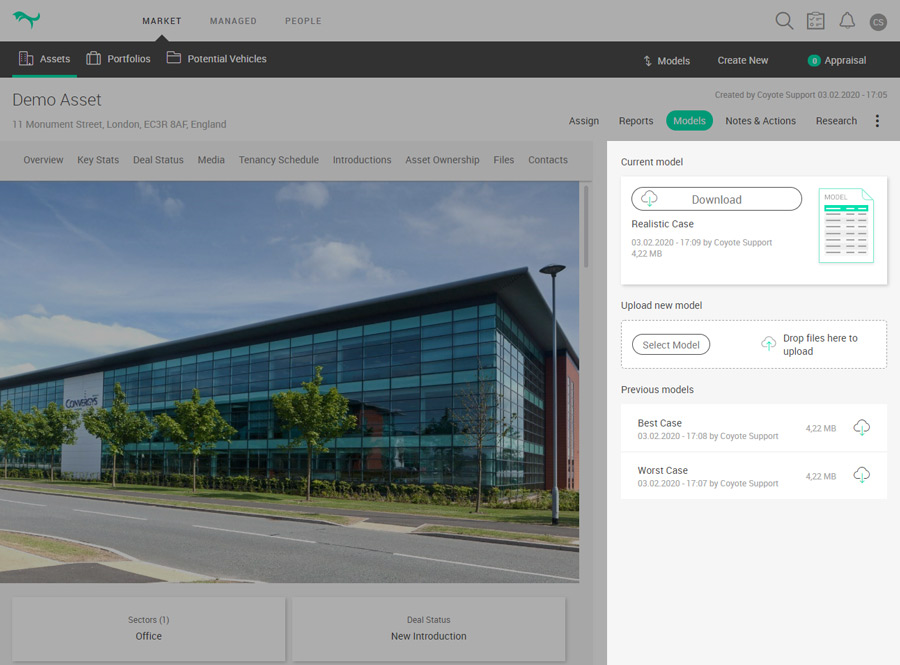 Optimised Images in Reports | Market & Managed
We recently upgraded the image optimisation engine in Coyote, to provide a lightning-fast experience when viewing assets on any device, and we've extended that functionality to the reporting engine.
If high-resolution images have previously bloated the size of your reports, we now serve an optimised version instead; giving you a file size that's easier to email and share.
We'll need to update your existing reports, so please speak to your Client Services Team to add this feature.
Support for Multiple Site / Floor Plans in Reports | Market & Managed
This release delivers support for adding multiple site plans to your reports. If you've taken advantage of the recent update, which enables you to upload multiple site/floor plans to a single asset, this can now be reflected in any of your custom reports.
If you'd like to see multiple site/floor plans in your reports, please get in touch with your Client Services Team.
---
Submit a request
Each new release involves back-end improvements and fixes, but as always, it's the feedback from our user community that drives a lot of new features. We love to hear your feature suggestions, so complete the form below or get in touch with your Client Services Team.