Customisable tables
All tables within Coyote have been updated to allow you to customise the columns within the user interface. Any changes you make are saved to your profile, so you always see what's important to you.
You can also customise the column order; just drag and drop it into an order that suits you.
Exportable tables
All tables can now also be exported to Excel at the click of a button. You can choose to export your customised table or a complete table, including all available columns.
When viewing a table – like this sample Tenancy Schedule, click the three dots in the top-right of the section to reveal the sub-menu highlighted below: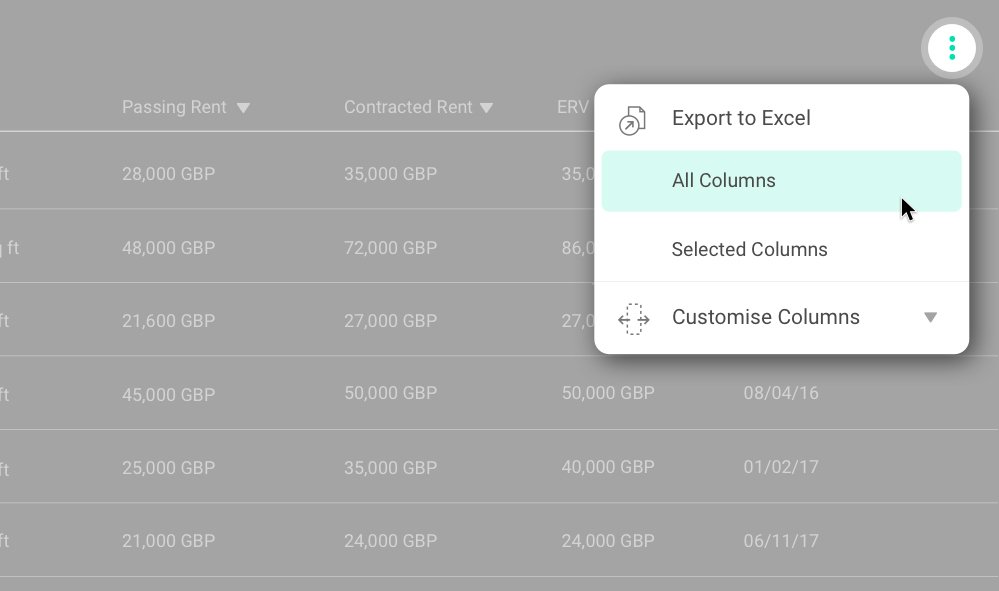 New arrears functionality
Arrears have been improved making it easier to differentiate between outstanding arrears for current tenants and past tenants, within any given unit.
Coyote Market asset search
By popular demand, we've added six-month and one-year options to the Last introduced search field. This means you can now use the search filters to view introductions over a longer period.
Map and address updates
We've now completed the move from Bing Maps to Google Maps. This means addresses will be pre-populated with more accuracy. This also paves the way for taking advantage of other great Google Maps features, like Street View. Watch this space.
Outstanding rent reviews
We've updated the following tables within Coyote Managed to show all outstanding rent reviews, rather than just the future rent reviews:
Tenancy schedule
Top rent review table
Managed asset unit records
This functionality means that you'll be able to identify any review that is outstanding, even if it occurs in the past.
---
Submit a feature request
As well as new features in this release, we've made additional tweaks to the back-end and fixed more bugs. Please drop us a line if there's a specific feature request that you'd like to see in one of the next versions of Coyote.