Infabode from within Coyote
When viewing assets or groups of assets within Coyote, we have a new sidebar feature called Research.
We've integrated with Infabode to provide contextually relevant details when you need it, from over 500 publishers. See a preview without leaving Coyote, and subject to basic terms, you can get full access to Infabode for free.
This means that when you're viewing an asset or a grouping of assets in Coyote Market or Coyote Managed, you'll see relevant information from Infabode in the sidebar, specific to the current asset(s).
So for example, if you're viewing an office in London, you may see a Hubble report on the "Best Offices in London for Small Businesses", along with the most up-to-date "City Office Market Watch" from Savills, and the latest "New offices to let in the City of London" report from Realla.
If you're viewing an industrial asset on the outskirts of Düsseldorf, you'll see the latest "Germany Industrial Snapshot" from Cushman & Wakefield, alongside "Germany's Industrial and Logistics Investment Market Report" from Colliers International.
The product team have been working hard on this partnership with Infabode for several weeks, and we're very excited to share this new addition to Coyote.
Here's a preview of what you can expect to see when you next log in to Coyote: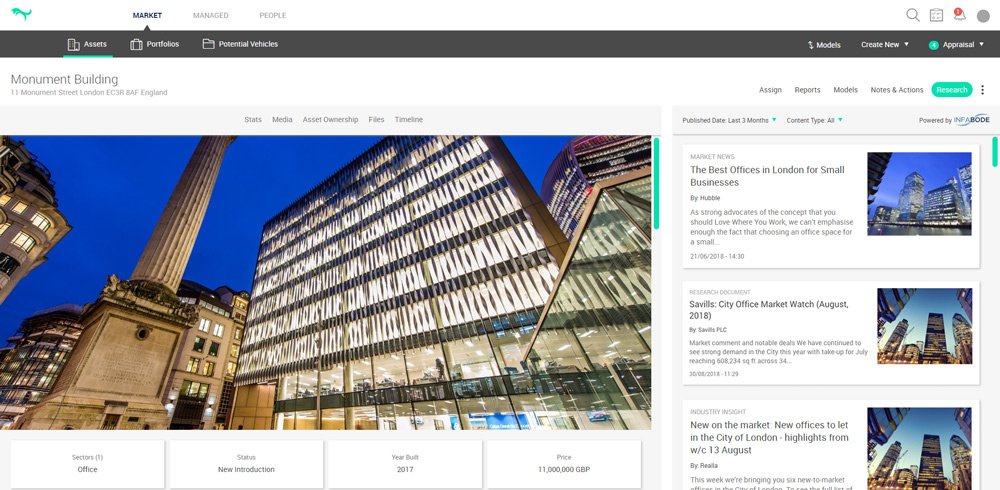 What is Infabode?
Often the most important real estate data is hard to find when you need a quick answer. Infabode is a platform which brings together research, reports and other types of content from the commercial property world, in one easy-to-access dashboard. Infabode provides access to over 350,000 pages of content from the property industry.
---
Submit a request
As well as the Infabode integration in this release, we've made many additional tweaks to the back-end and fixed more bugs.
Please get in touch with your Client Services team if there's a specific feature that you'd like to see in one of the next versions of Coyote.