Coyote is cloud-based software designed to enable property professionals to track and manage assets throughout their lifecycle. The company that built it, Coyote Software, describes its product as 'an acquisition pipeline and asset management platform'.
But Coyote was not originally developed to sell to the wider property community. It was built in house for use by fast-growing pan-European investor and asset manager M7 Real Estate and its clients.
M7 Real Estate was itself founded only 10 years ago. The firm now runs a pan-European portfolio of about 1,400 assets with a leasable area of about 10.7 million m2and a capital value of around €8.1 bn.
In 2009, Coyote's CEO Oli Farago (pictured above), then M7's chief technical officer, says his goal was to build an asset management platform 'from the ground up rather than stitch bits and pieces together'. Coyote co-founder Andy Dyer says that in 2009 there was no off-the-shelf software on the market that M7 could buy to answer its needs, so the only option was to build it themselves.
Coyote was designed to assist M7's asset managers in the process of procuring real estate investments and then guiding them through the lifecycle of each asset, Farago explains. Selling the software to third parties was not discussed until 2016. M7 had built up a vast amount of data and realised this was where the value was, so allowing potential competitors access to the bare software was not eroding its competitive edge. Thus every new Coyote client populates an empty shell with their own data.
'We saw an opportunity and the market embraced it,' Farago says. In January 2017, Farago bought the intellectual property rights to Coyote from M7 and formed Coyote Software. 'It is now a totally separate business and there is no corporate link between the two companies,' he says.
The firm now has 30 staff along with four directors who include former Bilfinger GVA CEO Rob Bould, who has recently been appointed Coyote Software's chairman after serving as a non-executive director.
By the time marketing started Coyote was a proven product with more than a million user hours clocked up. The company now has around 30 external clients. Although developed in the UK, where the entire team is based, Farago says that the system works in any currency and Coyote has recently signed its first clients in Germany and the Netherlands.
Other recent signings include Palmer Capital and Stenprop, the UK REIT focused on multi-let industrial property.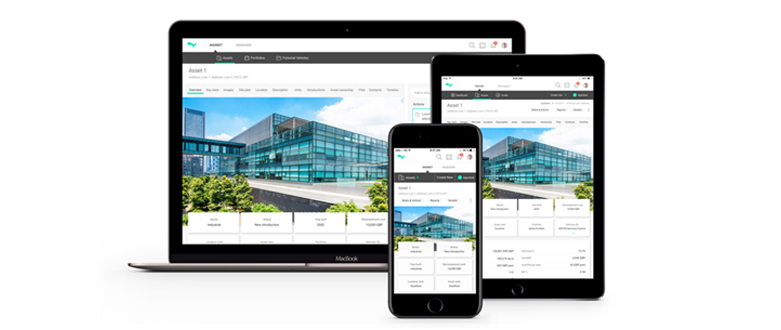 'It's property software for property people'
Coyote 'presents data in the way that [property people] think', according to Farago.
Claimed to be the only fund management software available on the market that integrates with other 'best-in-class' property management systems, the software is not resident on a user's IT system but is accessed via the internet and an online user interface that can be viewed on anything from a mobile phone to a desktop PC.
Coyote was so called as an homage to an earlier project – and a well known cartoon – for another client where new graduates hired to gather data on industrial real estate in different regions of the UK had been dubbed 'roadrunners'.
The software comprises two modules. The Coyote Market module enables users to store property information centrally and to track market activity. This provides 'a single source of truth', the firm explains, and enables faster analysis of new opportunities and makes for better informed decisions. This module also allows users to monitor deal flows in real time and provides a 'data room' as a single repository of information.
The Coyote Managed module provides users with real-time management information on the assets in a portfolio and provides a central hub for data which integrates with third-party systems which can be accessed from the Coyote 'dashboard'.
The company now has partnerships with property news aggregator Infabode, property search tool Realla, Nimbus Maps, digital connectivity rating sevice WiredScore, and data capture system Proda. 'We've also completed over 30 integrations with property management systems like Tramps, Yardi, MRI, and Qube,' says Farago. 'This enables our clients to centralise their commercial property data regardless of how many sources, view the consolidated data from a property-first perspective, and to clearly see opportunities and threats to income.'
Farago and his colleagues are confident enough in the product that one of the tenets of the business is that there is one version of Coyote and every client gets the same version, although wording can be adapted and, for example, drop-down menus can be individualised to accommodate the terminology that a particular company uses. 'But, if someone wants a new feature and it is a good idea, we build it for everybody,' says Farago.
---